Five Things to Start Tour Day
Oracle wins race for TikTok, a flurry of deals over the weekend, and drugmaker still confident of a vaccine this year.
Deal
Oracle Corp. emerged as the winner in negotiations to take over the U.S. operations of ByteDance Ltd.'s TikTok app, according to people familiar with the talks. The terms of the deal are still evolving, with the end option likely to be something closer to a corporate restructuring with Oracle taking a stake in a newly formed U.S. business. While the structure seems to be devised in order to meet recently tightened Chinese oversight rules, it is not clear whether it would pass muster with the Trump administration, which has set tomorrow as the deadline for the sale or shutdown of TikTok's American operation.
Deals, deals… deals?
Nvidia Corp. agreed to buy SoftBank Group Corp.'s chip division Arm Ltd. for $40 billion in the semiconductor industry's largest-ever deal. SoftBank will also raise 1.2 trillion yen ($10.4 billion) from selling about a third of its domestic wireless arm. Gilead Sciences Inc. agreed to acquire Immunomedics Inc., the maker of a promising breast-cancer therapy, for about $21 billion, or $88 a share, more than twice Friday's closing level. The hardy perennial of merger rumors is back again this morning, with reports suggesting the chairmen of UBS Group AG and Credit Suisse Group AG are exploring a potential combination.
Sponsor Content by PIMCO
The Role of Bonds in a New Era of Low Yields
Resiliency and diversification potential remain critical in a world with meaningful uncertainty ahead. Here's how the traditional appeal of core bonds stacks up today. Read more.
2020 vaccine
Pfizer Inc. Chief Executive Officer Albert Bourla said it's "likely" the U.S. will deploy a Covid-19 vaccine to the public before year-end, adding that he is «quite comfortable» that the vaccine his company is developing with BioNTech SE is safe. The University of Oxford and AstraZeneca Plc have restarted the trial of their experimental treatment after it was paused last week over concerns about a patient who fell ill. The record-breaking race to find the vaccine, which includes more than 600 projects worldwide, remains the best hope for an end to pandemic restrictions.
Markets rise
While global equities are generally making positive progress today, the pace remains far short of a rally. Overnight, the MSCI Asia Pacific Index gained 0.8% while Japan's Topix index closed 0.9% higher after members of the ruling Liberal Democratic Party selected Yoshihide Suga to replace Shinzo Abe. In Europe, an early rise in the Stoxx 600 Index failed to hold, with the gauge trading unchanged by 5:50 a.m. Eastern Time. S&P 500 futures also gave up some ground while remaining firmly in positive territory, the 10-year Treasury yield was at 0.664% and gold was slightly higher.
Coming up…
The eco data calendar is fairly empty today, but that doesn't mean there isn't a lot going on. In Washington, the increasingly hot topic of mail-in voting will get a hearing when a House committee meets on the matter. With 50 days to the election, President Donald Trump is on the campaign trail in California, while Joe Biden is due to speak on climate change and wildfires. In the U.K. Prime Minister Boris Johnson will put his plan to break international law to Parliament today. OPEC's monthly report is published later, as crude prices remain under pressure amid continued doubts over future demand. The New York Fed will release its new repo operations schedule.
What we've been reading
This is what's caught our eye over the last 24 hours.
And finally, here's what Joe's interested in this morning
This should be the start of an interesting moment for markets and the economy. The last couple of weeks have seen a notable selloff in high-flying tech stocks, with some big names and major indices below their 50-day moving average for the first time in a long time. There are some ugly looking charts out there.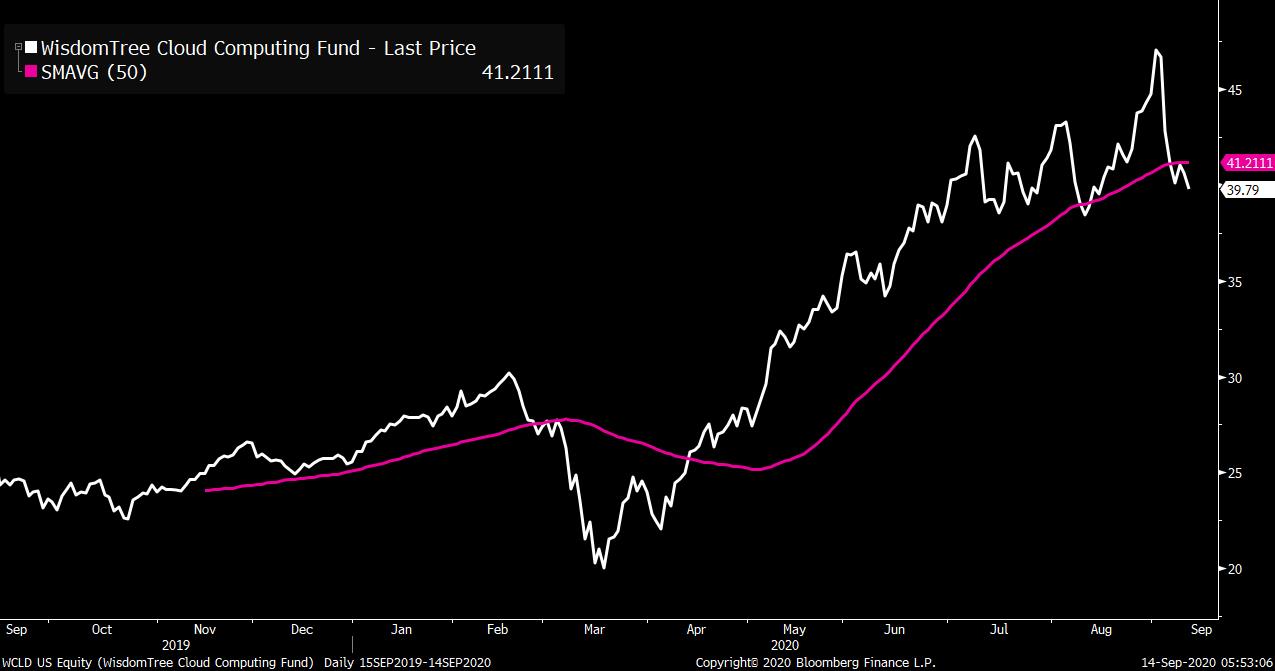 Also, to some extent, this week marks the real start of what «normal» will look like. It's the first full week after Labor Day, so a lot of the high frequency datapoints that people like to watch (TSA air travel data, OpenTable reservations, daily credit card spending, hotel reservations) should offer clean looks at where the economy really is right now.
Meanwhile, setting aside the near-term questions, the big picture situation for the economy continues to track the broader story that's been in place for awhile. There's fast-twitch recovery from the virus (furloughed workers coming back to work, stores reopening) and the more slow moving classical recessionary slump that's the result of lost income and business from the virus itself. That dynamic shows up most clearly in the labor market data, but you can also see something similar in the inflation data that came out last week. We saw the headline CPI number in the US rebound by more than expected, largely due to the impact of rising used car prices. But if you dig beneath the surface, you can see much bigger categories like Owner's Equivalent Rent (the primary way the cost of shelter is measured) continue to slide. Just like with the labor data, there's the fast-moving categories rebounding, while the deeper, deflationary impulse continues.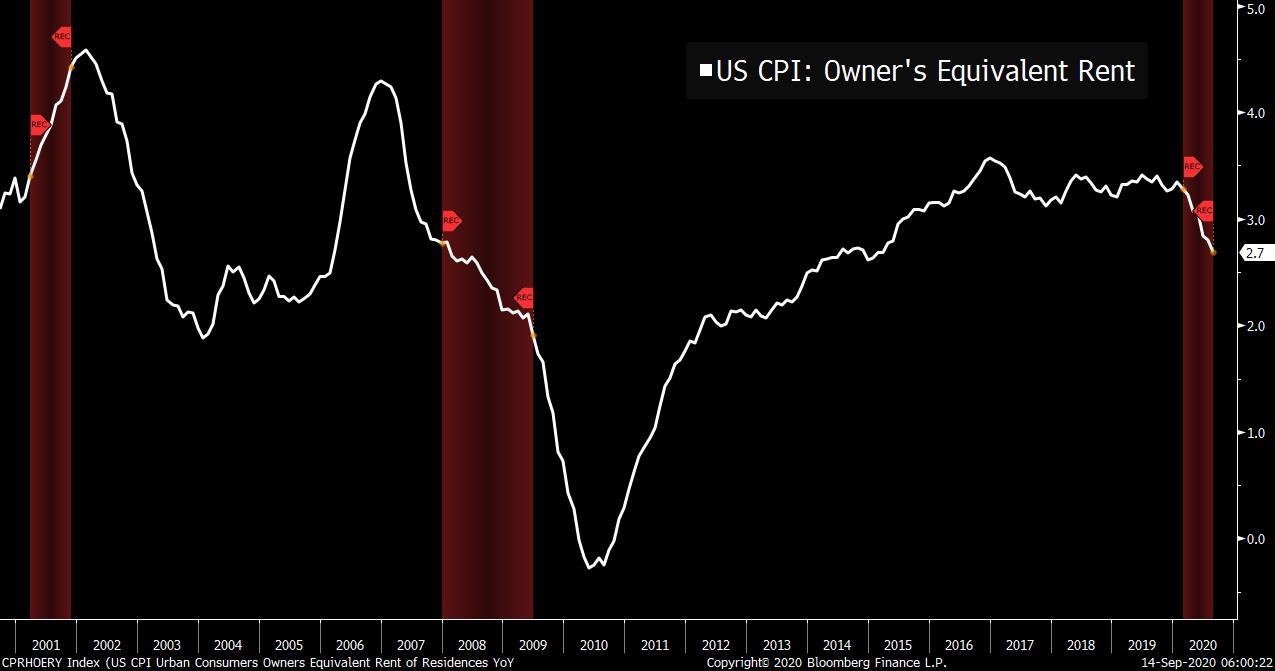 Joe Weisental is an editor at Bloomberg.
Correction: Friday's email gave an incorrectly stated the Pennsylvania plane crash was in 2011 rather than 2001.
Like Bloomberg's Five Things? Subscribe for unlimited access to trusted, data-based journalism in 120 countries around the world and gain expert analysis from exclusive daily newsletters, The Bloomberg Open and The Bloomberg Close.
Fuente: https://www.bloomberg.com/